RCMP storming indigenous pipeline barricade at Coastal GasLink site
"They'll do enforcement of the injunction, since the protesters have blocked the road cutting off supply to the CGL camp."
The RCMP are using heavy equipment to storm an indigenous blockade at the site of the Coastal GasLink pipeline, near Smithers BC.
"URGENT UPDATE: 20+ RCMP cops with K9 units now at Gidimt'en checkpoint at 44 KM. Supporters were read the injunction and were threatened with arrest," said a tweet from the protesters Thursday morning.
"11:50 am, Nov 18. 4 arrests made at 44K, including 2 indigenous elders. Janet Williams is our elder and she was denied access to her medication by the illegal RCMP exclusion zone. She will need her medication in jail.
"Also reports another charted flight landed in Smithers with at least 21 more RCMP all this during a State of Emergency in the province! I'm sure the resources could be better spent than criminalizing Wet'suwet'en people
"Getting reports that there are heavy equipment, RCMP, CGL security on both ends of Cas Yikh yintah. Bulldozer was chasing people. Will attempt to keep updated on the latest here. We need all the support and noise you can make right now to keep our people safe!"
The mother of one of the workers trapped inside this morning had pleaded for the RCMP to make a move.
"My son is one of the over 500 workers who are being held hostage in the camps in Northern BC. The camps have no water for sanitation and the only safe way in and out for workers is by helicopter because the blockade participants are threatening violence," the mother told the Western Standard.
"They have dug up roads and fallen trees over important roads. Where are the POLICE? As usual, this country bows to the illegal lobbyists and ignores the wellbeing of the country as a whole."
Coastal GasLink (CGL) says the company is "very concerned" for the safety of over 500 of its workers who are currently stranded on the Morice River public forest service road in Wet'suwet'en, and RCMP has deployed its Community-Industry Response Group (C-IRG) to address the situation.
C-IRG was created by the RCMP in 2017 to provide "strategic oversight addressing energy industry incidents and related public order, national security and crime issues."
CGL says that pipeline protesters have blocked all exits and access to the area in which its workers are stationed.
"It has now been three days and supplies, including water, are at risk of running out and access to medical care in the event of an emergency continues to be obstructed," writes the company in a statement.
CGL says that "opponents" have significantly damaged the forest service road at Lamprey Creek Bridge.
Gidimt'en Clan issued an evacuation order to Coastal Gaslink (CGL) to leave their territory on November 14 and subsequently put up blockades on the Morice Forestry road.
"These ongoing, unlawful actions put people at risk for serious harm and are dangerous, reckless and unacceptable," reads the statement from CGL.
Gidimt'en Access point says RCMP are blocking food and medical supplies from Wet'suwet'en homes, and are therefore "violating the human rights of the Wet'suwet'en people."
The pipeline has the support of all First Nations along the route, but hereditary chiefs of Wet'suwet'en Nation, through which 28% of the 670-km route passes, oppose it.
On Jan. 7, 2019, RCMP arrested 14 protesters along the BC logging road.
International attention was drawn to the issue when a British newspaper reported RCMP were ready to shoot protesters when they broke up the camp. The RCMP denied the story.
On Dec. 31, the BC Supreme Court granted CGL an injunction against members of the Wet'suwet'en First Nation from blocking the pipeline route near Smithers, BC.
The $6.6 billion pipeline, to be operated by TC Energy Corp, would transport gas from near Dawson Creek in northeast BC to Kitimat on the coast and supply Canada's largest liquefied natural gas export terminal, called LNG Canada, which is under construction.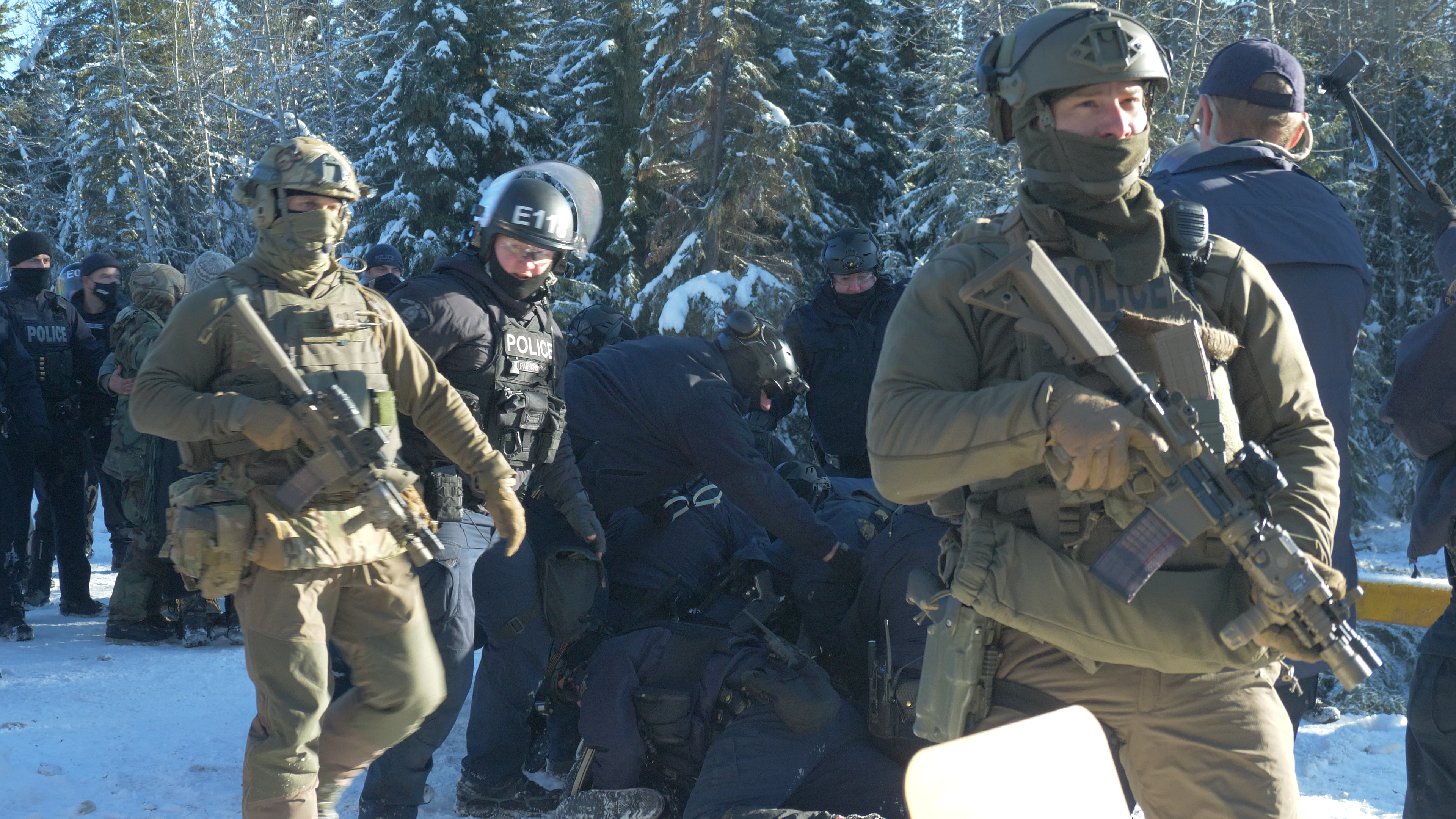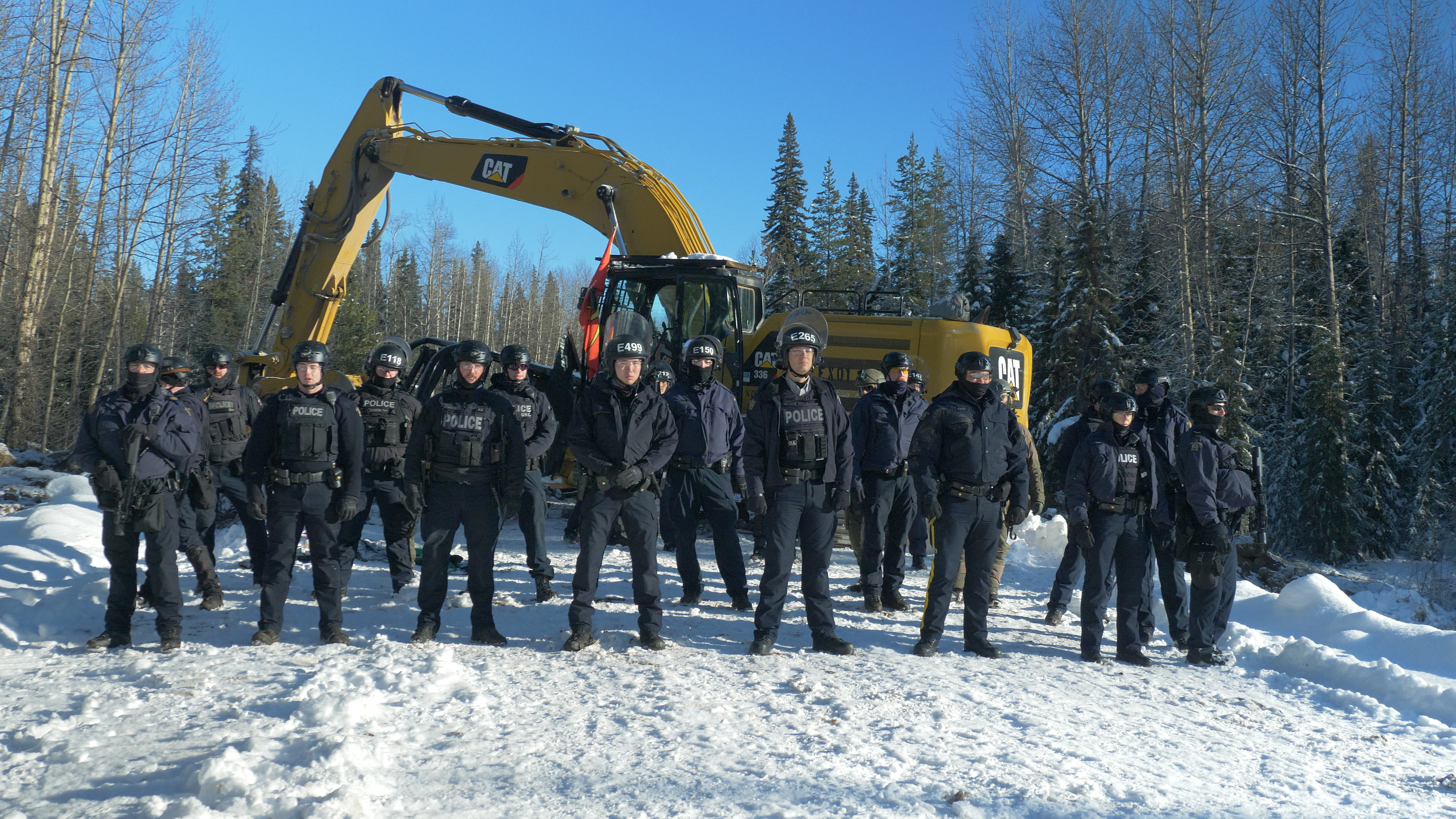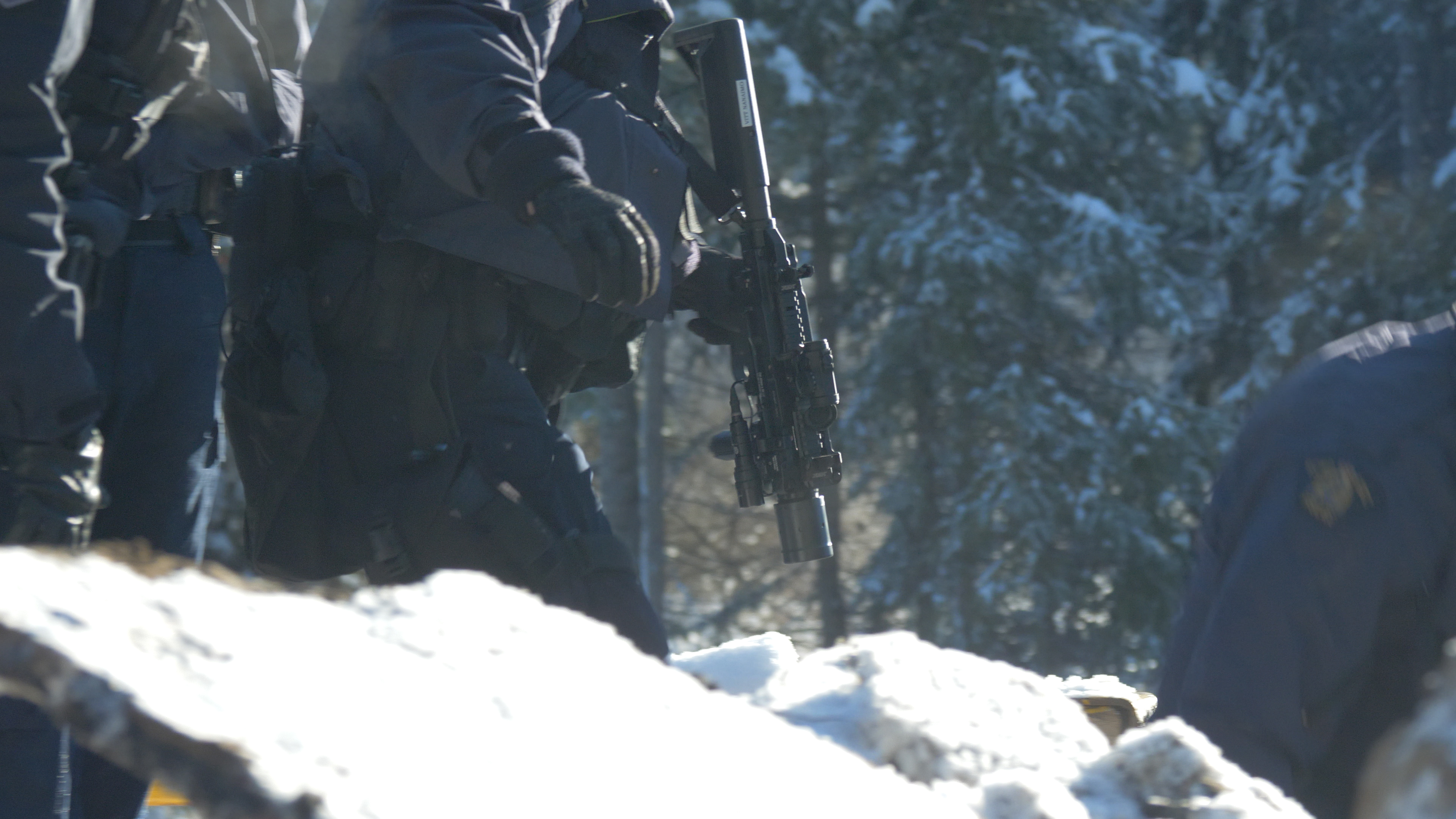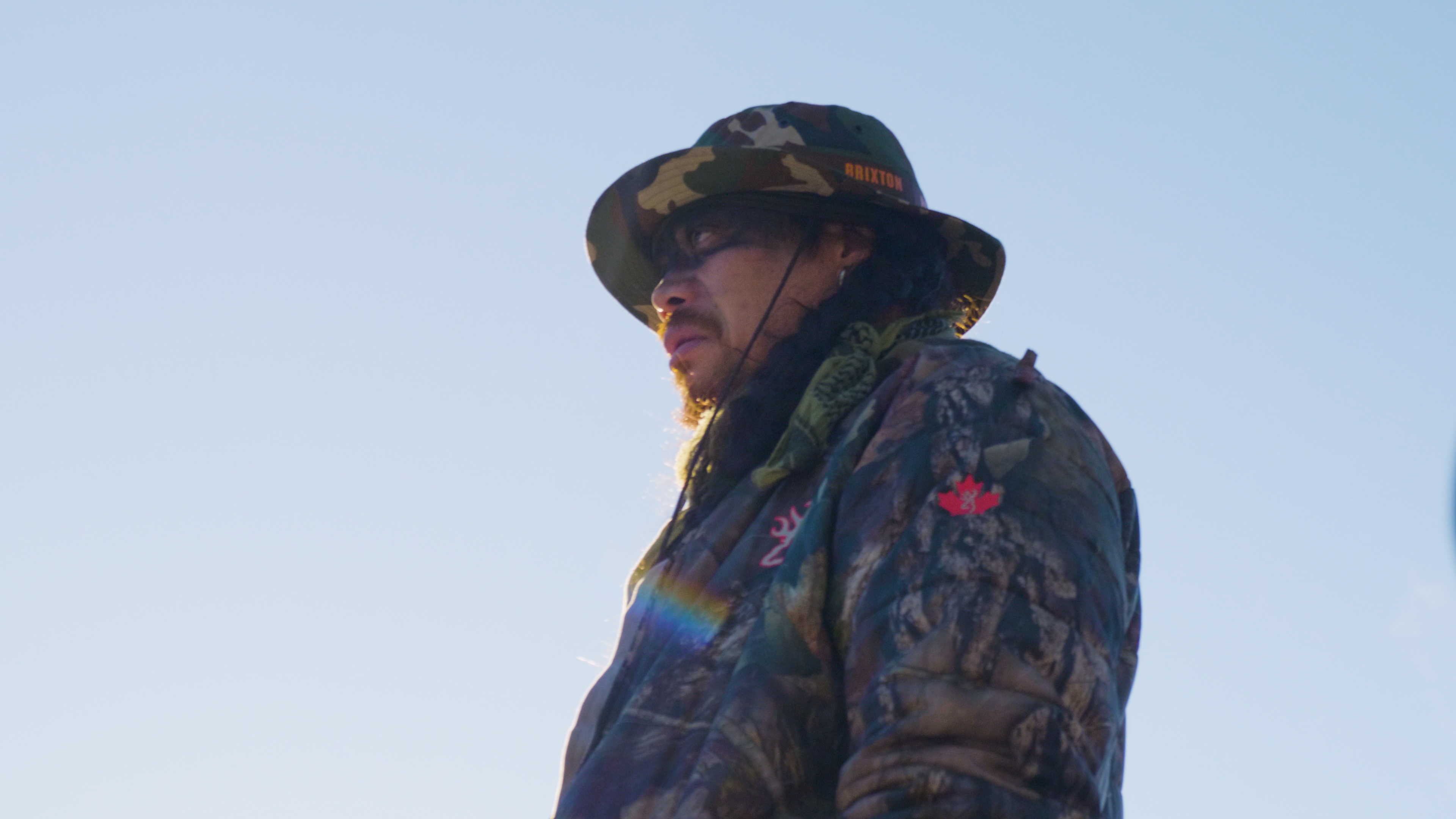 The RCMP has confirmed that 14 individuals were arrested on Thursday for breaching the injunction. They are currently being held in custody at the Houston RCMP detachment and will appear before the BC Supreme Court on Friday.
In a statement, RCMP addressed allegations that Mounties are preventing food and medical supplies from being brought to the Healing Centre or to individuals at the various protest camps established in the corridor, referring to the allegations as "completely false."
RCMP also says that no attack dogs were used in the arrests.
"As with other enforcement operations, all our actions are documented, including the use of body worn cameras, for court or complaint purposes," reads the statement.
More to come…
Reid Small is a BC correspondent for the Western Standard
rsmall@westernstandardonline.com
Twitter.com/reidsmall
New Sask law exempts employers from COVID-19 lawsuits
The release bragged that Saskatchewan was one of only five jurisdictions with such extensive sexual harassment protections, but after the legislation was passed, Morgan defended the COVID-19 provisions as being common.
By Lee Harding
Employees' quests for legal COVID-19 recourse has died with recently passed legislation that is "protecting vulnerable workers" according to Labour Minister Don Morgan.
Legislation recently passed by the Government of Saskatchewan prevents employers from being sued for implementing measures listed in the Public Employers' COVID-19 Emergency Regulations or the Employers' COVID-19 Emergency Regulations.
Amendments to the Saskatchewan Employment Act say "no action or proceeding lies or shall be commenced or maintained against an employer" if that employer acts in good faith.
"It's broad general thing that would cover anything related to COVID-19 — signage, lack of signage, whatever else might reasonably arise from it. The threshold is that they must act in good faith," said Morgan.
"We aren't trying to target a specific lawsuit that's been started or being threatened … But we know that COVID-19 vaccines, etc., are a worldwide issue right now and we want to be able to encourage our employers to have some comfort that they're not going to be subject to lawsuits."
The legislation applies regardless of when a perceived transgression may have occurred. The amendment received royal assent November 30. However, when the Saskatchewan Employment Amendment Act, 2021 was first announced in a press release November 18, nothing about COVID-19 was even mentioned.
Although the opening sentence mentioned "better and safer workplaces for employers and employees" the rest of the release concerned details about sexual harassment and union bargaining provisions.
Now the Labour Relations Board must exclude supervisors from the same bargaining unit as those they supervise, wherever possible. Sexual harassment at the workplace is now defined as any unwelcome action of a sexual nature, and provisions of the act extend beyond employees to include independent contractors, students, and volunteers.
"The legislation that governs our employers and employees needs to address the challenges of the modern work environment, including protecting vulnerable workers," Morgan wrote in the release. "These amendments will help us build a stronger, safer and healthier Saskatchewan."
A fact sheet the release linked to concluded with a brief mention of COVID-19.
"We are introducing a provision that will provide protection for public and private sector employers that comply with the new COVID-19 vaccination regulations. These regulations give the employee the choice of showing evidence of being fully vaccinated or evidence of a negative COVID-19 test at least every seven days."
The release bragged Saskatchewan was one of only five jurisdictions with such extensive sexual harassment protections, but after the legislation was passed, Morgan defended the COVID-19 provisions as being common.
"That's being done generally across North America," Morgan said.
The same day Morgan made his comments, a post on the Freedom Alliance Facebook page suggested a strong desire for legal recourse alongside skepticism, and an apparent unawareness of the new provincial law.
"Does anyone here know of any lawyers in Saskatoon that believe in the same rights and freedom as we do? I believe it's time to really do something about losing my source of income
"The couple lawyers I did speak with basically said the pandemic supersedes all our rights! Would be great if we found a lawyer that called out the BS! Might have to source out to other provinces," replied Michielle Ross Noble.
"At the mine I work at they had a lawyer go to bat and it seems to be that the government is above the law and beyond the constitution. Money talks louder than laws these days," replied Garrick Bernard.
"I also live near Saskatoon," replied Ron Chappell. "Good luck finding a lawyer that will stand up for your rights and freedoms. Seems these evils are above the law including the Canadian charter of rights and freedoms. There should be lawsuits going on everywhere. Either we don't hear about them or they are not happening. Justin Trudeau is [a] tyrant."
To this Funk made what proved to be a moot reply.
"Then a group of us should band together and file lawsuits! Who's with me?"
Harding is a reporter based in Saskatchewan
Maverick leader describes his perfect successor
"I am aware of three or four people who are seriously considering running for leadership," interim leader Jay Hill told the Western Standard.
Jay Hill, interim leader of the federal Maverick Party, says he hopes for a candidate for his replacement is someone that can "move the provinces and premiers towards greater autonomy for the West."
On Wednesday, the Maverick Party released the rules for its leadership race that will see a new leader elected May 14, 2022.
The party will officially be accepting leadership applications as early as January 3 with a deadline of April 30.
Hill says he hopes to see two to six candidates apply.
"I am aware of three or four people who are seriously considering running for leadership," Hill told the Western Standard.
"We're more so focused on the quality side of things rather than quantity."
The Maverick Party, formerly known as Wexit Canada, advocates for greater autonomy for Western Canadian provinces including BC, Alberta, Saskatchewan, Manitoba and the three territories.
"I'd like to see someone with the right vision and oratory skills to communicate with passion for Western Canadians," said Hill.
Hill pointed to Quebec's position within Canada and said the Maverick Party supports moving the western provinces in that direction.
Included in the list of rules for those interested in throwing their hat into the leadership race is a registration fee set at $10,000.
"Our governing council really struggled with that fee," said Hill, who indicated the registration fee is still "substantially less" than any of the other federal parties.
"We were really aiming for the right balance — that sweet spot — where you want to be realistic and make it doable and not a deterrent.
"It's efficient to get serious contenders with serious commitment to register and not those with frivolous reasons."
Hill, the former House leader for the Conservative Party of Canada, said he's "too old" to run the party moving forward.
"My roll in elected office is done," said Hill, adding he was done with the "high stress and high drama" when he quit federal politics in the fall of 2010.
When a new leader is elected in May, Hill plans to stay on and assist the party "depending on the needs of the new leader and how he or she feels I can contribute the most."
Hill said he is excited and is looking forward to "a good, credible and lively leadership race."
Melanie Risdon is a reporter for the Western Standard
mrisdon@westernstandardonline.com
Maverick Party petition calls for carbon tax break for Canadians
Canadians will soon have to choose between food on their tables or heat in their homes," the petition reads.
The Maverick Party, with a newly launched petition, is calling on the federal government to suspend the collection of carbon taxes from Canadians from January 1 to April 1, 2022.
Carbon tax is a levy imposed on human activity that results in carbon emissions being released into the atmosphere, usually by the burning of fossil fuels like gasoline, natural gas and coal.
The petition notes although carbon taxes are designed to "change behaviour," the rising costs of living are an "added extra burden" on taxpayers.
The petition also says the party "understands that the cost of living is increasing at a pace that families can't keep up with," pointing to "skyrocketing" inflation and the cost of essential items rising.
"Many Canadians will soon have to choose between food on their tables or heat in their homes," the petition reads.
"The federal government can alleviate some of the burden by declaring a carbon tax moratorium on New Year's Day 2022."
The Maverick Party is demanding the government give Canadians who are "drowning financially" a break to get through what will likely be "the most expensive winter in memory,"
The Trudeau government implemented the Greenhouse Gas Pollution Pricing Act in 2019 that was upheld by the Supreme Court of Canada in March of this year.
"Putting a price on carbon pollution is widely recognized as the most efficient means to reduce greenhouse gas emissions while also driving innovation," the Government of Canada states on its website.
Melanie Risdon is a reporter for the Western Standard
mrisdon@westernstandardonline.com
Petition: No Media Bailouts
We the undersigned call on the Canadian government to immediately cease all payouts to media companies.